OK, I'm not a hockey fan (sorry).  I say this given the degree of Vancouver Canucks enthusiasm present in our small office.  Now that's out of the way, let's talk basketball.
Sports teams are a good source of discussion for strategy, teamwork, and leadership and the value of doing those things right in an organization.  The Phoenix Suns are an NBA basketball team currently competing for the NBA title.  Canadian star Steve Nash plays in the point guard position on the team – effectively a player-leader/team leader role.  I've been a fan of the Suns for many years; my "fandom" springs from an admiration of key players on the team (Steve Nash and Grant Hill in particular from a spokesperson point of view) combined with the entertaining play style.
Years ago, the Suns were a very successful team adopting a 7-seconds-or-less rule.  This meant that the team would attempt to always have a shot within 7 seconds of receiving the ball on offense (a team receives 24 seconds to do so).  The team was built with a number of players that were fast, athletic, and offensively-minded.  They were also good shooters – talented at hitting 3-point shots.  The team won large amounts of regular season games.  Yet, their "goal" (as any strong team would share) was to win a championship or at least compete for one.  What hampered their ability to compete ultimately for a championship was an inability to succeed in playoff games – which are characterized by a slower pace and more defense.
Two seasons ago the Suns recruited the famous All-Star Centre Shaquille O'Neal (Shaq) in hopes of becoming a stronger defensive team, better equipped to compete in the playoffs.  Shaq played very well during his time with the Suns.  However, in the first year with Shaq on the team they were still ousted early in the playoffs.  The team was criticized as being "unclear" or confused … the play style had rapidly transitioned from an up-tempo game to a slow, plodding game.  The second year with Shaq the team did not even make the playoffs.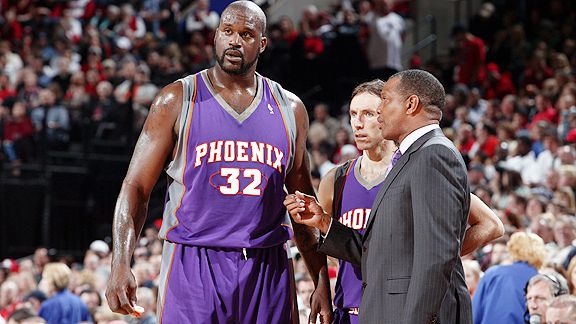 This current year, under Coach Alvin Gentry, the team has performed much better than anyone expected.  They are one of only four teams left competing for the championship.  To outside analysts and the players and coaches themselves, this is the result of: a strong, fair-minded, and trusted leader (the new coach), his ability to recover some of the fast-play style of the "old" Suns but also slightly change the team play style to also emphasize defense.  To do this, he and the General Manager acquired and developed new talent, made several interesting choices about player rotation, and preached the new vision, continuously, until all players "bought in".
What can we learn about strategy, leadership, and teamwork?  The following critical but important lessons:
Strategic success is linked closely to strategic leadership
Good strategy combines analysis of what is good about an organization at present (i.e., it's core competency DNA) with what may be not-so-good.  Specifically, what about the organization makes it fit or unfit for the challenge it has set for itself?  In the Suns example, this involved both personnel and the style of play.
Good strategic implementation depends on the ability of leadership to help followers understand where the organization is going (mission), with what must change to get there.  To do this, leaders must teach.
Orchestrating change requires trust
This last point is critically important, I think.  In a post-game interview, Small Forward Grant Hill discussed the ability of Coach Alvin Gentry to provide feedback to all team members – regardless of how much of a superstar a team member was.  Ultimately, Coach Gentry seems to have changed the team's performance through changing its culture.  This is, in my view, the root of all successful change.  Coach Gentry has helped the team learn how to play differently (defensive-minded, tougher, better at half-court execution, with two full rotations).  It would appear he has the trust of all his players, earned by helping them grow, develop, and perform at a high collective and individual level.
Coach Gentry may or may not be aware of quality-guru W.E. Deming's famous 14 points for management (hyperlink http://deming.org/index.cfm?content=66).  From what I can tell as a fan and basketball aficionado, he certainly manages his team with these principles in mind.
For those curious, check out http://www.nba.com/suns.
P.S. (shameless solicitation) Yes, I will write a leadership biography with Coach Gentry, Steve, or Grant … for free!  Or, simply take an autographed ball … or anything.